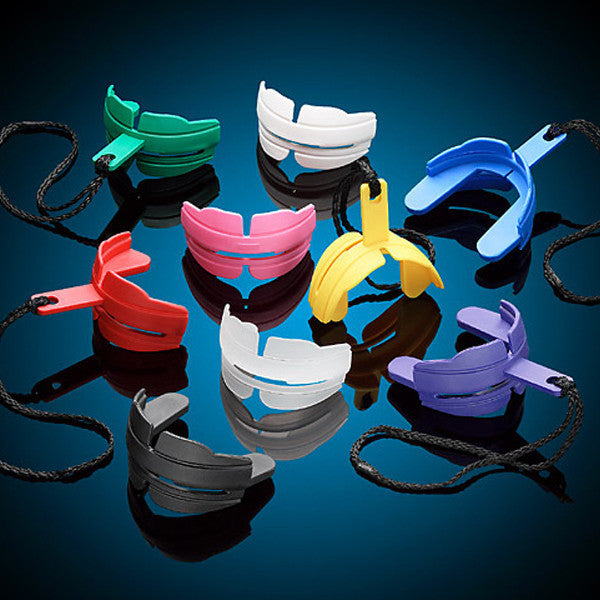 TOTALGARD MOUTHGUARDS (CLEAR)
The ideal Sports Mouthguard for fixed appliance patients 
Designed by an Orthodontist, the TOTALGARD™ sets new standards in patient comfort and protection during contact sports. Superior to any other preformed mouthguard in both design and function.

Designed to:
Fit over all braces and appliances (ie Expanders etc) Protect both upper and lower teeth

Protect TMJ 

Protect lips
Designed with:
Hinged extensions that fold into the buccal area for comfort 

4.25mm posterior bite tabs that protect the TMJ, prevent anterior teeth from clashing and doesn't

 cause gagging 

Anterior opening for easy breathing and speech.
Designed for:
Natural retention through the muscles of the lips and cheeks

Comfort and protection 

Easy breathing and speech 

Easy fit - No boiling

Doesn't interfere with orthodontic treatment 

Self retentive
TotalGard™ full mouth protection for fixed appliance wearers 
Large size equipped with extended bite tabs to accommodate occlusion of 2nd molars.
Recommend the TotalgardTM to your sports playing patients!
Inexpensive enough to give to selected patients, or can be sold in reception.

NOT AVAILABLE in retail outlets.

Colors are available as special order - please ring or email
Three sizes fit all orthodontic patients 
Small: Age 8-10 years
Medium: Age 10-12 years 
Large: Age 13+
Sold individually
| | | | |
| --- | --- | --- | --- |
| Size | Colour | Product Ref | CH2 Order Code |
| Small | Clear | 5100-046 | 2080237 |
| Medium | Clear | 5100-056 | 2080306 |
| Large | Clear | 5100-066 | 2080399 |