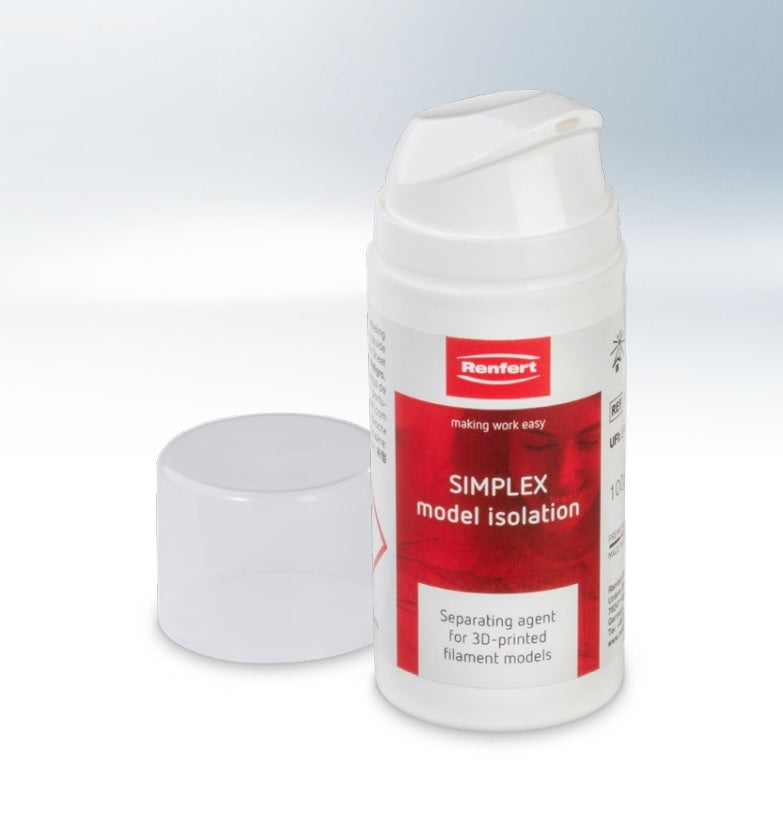 SIMPLEX MODEL ISOLATION (80g)
Isolation For 3D Printed Models
SiMPLEX model isolation is an isolation material for models that have been 3D printed with a filament system. This ready-to-use insulator makes it very easy to fabricate orthodontic appliances from dental resin on the printed model. Applied with a brush, it forms a uniform and very thin insulating layer on the surface of the model. The result: the model resin and the dental resin are perfectly separated. After curing, the finished object can simply be removed from the model, retaining all surface details.
Advantages:
     • Suitable for models made with filament 3D printing, designed for model isolation when making removable orthodontic appliances.
     • Also suitable for models made with SLA/DLP printing processes.
     • Only one layer is required to achieve optimum separation between the model and the object produced.
     • Removes completely with water and does not require steam cleaning, which simplifies use and avoids damaging the material.
Details:
     • Free from substances harmful to health.
     • Perfectly insulating effect.
     • Optimal and very thin insulating layer.
     • Can be removed completely with water.
     • Does not damage the material.