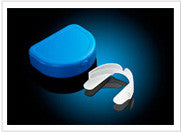 STRESSGARD NIGHT MOUTHGUARD
Stressgard helps with stress and anxiety caused by grinding (bruxing) and clenching of teeth.

No boiling or moulding

Instant fit

Unique design fits upper or lower teeth. 

No boiling or moulding. 

Held in place naturally between lips and teeth.
Please note that this product isn't suitable for people less than 18 years of age.

Sold individually. 
Product Ref: 5100-107 (Previously 5100-SG)