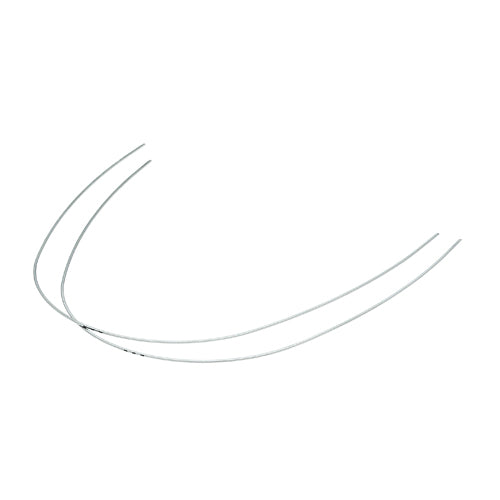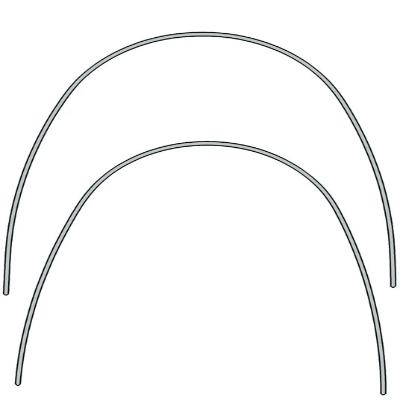 EUROFORM BTA BETA TITANIUM ARCHWIRES (PK10)
OrthCEuroform
 BTA arches make ideal finishing wires due to their relative stiffness and resiliency. 
Beta-Titanium produces forces approximately 40% stronger than Nickel Titanium, but has only 42% of the stiffness of stainless steel. 
Clinical advantages: 
Stiffness and Resiliency - 

The stiffness and resiliency inherent in beta titanium wires, allow you to apply larger wire sizes earlier in treatment. 

Torque Qualities - 

Due to their force and flexibility, BTA archwires have excellent torque qualities and the ability to add torque when necessary. 
Nickel Free - BTA archwires contain no nickel, which is known to cause a reaction or irritation in some patients. 
Ductility and Formability - The ductility and formability of BTA arches allows you to form loops and bends with ease. The superior ductility also ensures that fracturing does not occur. 
Pain reduction - Because of the lighter forces applied by BTA wires, in comparison with the forces found in stainless steel, these archwires are an excellent choice for patients with a low tolerance.
Sold in packs of 10.
| | | | |
| --- | --- | --- | --- |
| Rectangular |  PK |  UPPER Code |  LOWER Code |
| .016 x .022"  | 10 | 5325-162 / 2081737 | 5325-262 / 2081799 |
| .017 x .025"  | 10 | 5325-175 / 2081744 | 5325-275 / 2081806 |
| .019 x .025"  | 10 | 5325-195 / 2081768 | 5325-295 / 2081820 |